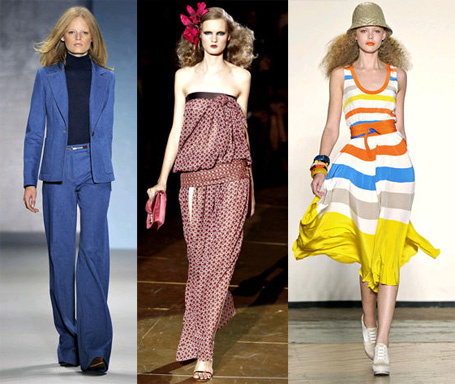 The
second
trend on my musthave s/s 2011 list (and the biggest I think) is the 70's trend. On the runway the
70's trend was a clear winner.
Designers all over the world were tapping into a 1970′s mood for Spring 2011.
The 1970′s were about individuality and expression and fashion was a big part of the movement. Within 1970′s fashion, there are several different classifications of style. The bohemian hippies set trends with bell-bottoms and fringe, feathers and lace always projecting an easy ethereal vibe in their dress. While the hippies were protesting, the city gals were getting glammed up at Studio 54. The Dicso queens of the 1970′s set trends in the high-fashion world with sequins and shine, jumpsuits and platforms, and a bright color palette of orange, purple and salmon. (tekst: theschereport)
For Spring 2011 there are all lot these fashions re-introduced on the runway. There are a lot of trends this spring/summer which have 70s influence like;
the tunic, transparency, full leg trousers, bow tie blouses, elongated blazers, lace, leopard prints and utilitarian denim, bohemian vintage, the jumpsuit.
I will show you a few pictures and items of some 70s outfits I like! (from H&M, Asos and topshop)
And now I'm going to pack my bag! Because tomorrow I'm going to Rome!!!